KUDOS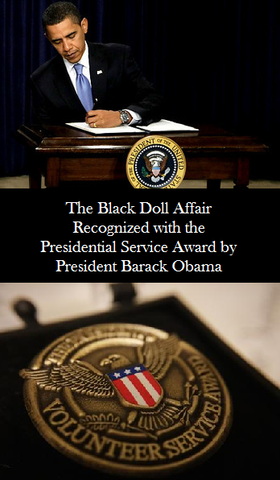 Civil Rights Leader and Georgia Congressman John Lewis Acknowledges The Black Doll Affair with a Special Congressional Recognition!
The State of Georgia, Governor Sonny Perdue (2003-2011), Senator Nan Orrock, Representative Margaret Kaiser, and Atlanta City Councilman Kwanza Hall proclaim: The Black Doll Affair Day
Founder of The Black Doll Affair, Dana Hill; Georgia State Senator Nan Orrock; Civil Rights Leader and Georgia Congressman John Lewis; Atlanta Mayor Kasim Reed; Leroy R. Johnson, the First Black Senator of Georgia; and General Larry Platt, writer of the hit song "Pants on the Ground" are recognized as Sweet Auburn's Georgia Legends, Heroes and Heroines!"
In the city of its headquarters, The Black Doll Affair is acknowledged with the 2015 Best of Marietta Award for Community Organization! 
In support of its mission, the daughters of Oliver Brown (
Brown
 vs. The Board of Education Supreme Court Case where the first Doll Test was conducted), Cheryl and Linda Brown join the Black Doll Affair family to support its mission.
For lifting the self-esteem of chocolate girls, Actor Taye Diggs and Artist Shane Evans honor The Black Dolls with their "ChocoStar" Award!